** For our continuously updated website TWITTER TIMELINE click here

---
#France #Marseille – Man shot in Saint-Charles station after attacking people with a knife (AFP)
** Police are asking to avoid the area
** Local media say a man shouting allahu akbar attacked 2 passengers on a train platform.
** La Provence reports 1 has died and the other victim is in a serious condition. To be confirmed.
** Entire station evacuated. Large police operation
** Updated toll: 2 dead
** Minister of Interior on his way to the site of the attack
** The attacker has been shot dead by soldiers of the #Sentinelle operation
** 2 killed + attacker killed
** Anti-terror prosecutor takes over investigation
** At least 1 of the victims is a woman
** Local media now indicating both deceased victims are women
** BFMTV indicates 1 woman was stabbed to death and 1 had her throat cut. To be confirmed
** Security perimeter has been enlarged. Cars no longer allowed around the railway station
** Witnesses on scene say the military intervention came very fast. They claim it took less than a minute
** #IS fanboys on #Telegram are celebrating the attack
** The 2 deceased victims are still on the ground, about 5 meters away from each other
** The attacker is on the ground too, about 10 meters away from his victims
** All officials are very positive about the military intervention: effective and very fast. They avoided more victims
** After stabbing the 2 deceased victims, the attacker threw himself on a soldier, who opened fire
** Investigation opened for: 1) Terrorist murders 2) Attempted terrorist murder of an official (the soldier)
** Both police and the railway company to delay all train travel to and from Saint Charles railway station
** The attack still hasn't been claimed
** Train services in and out of Saint Charles station are gradually resuming
** According to police union UNSA, the 2 victims are 17 and 20 years old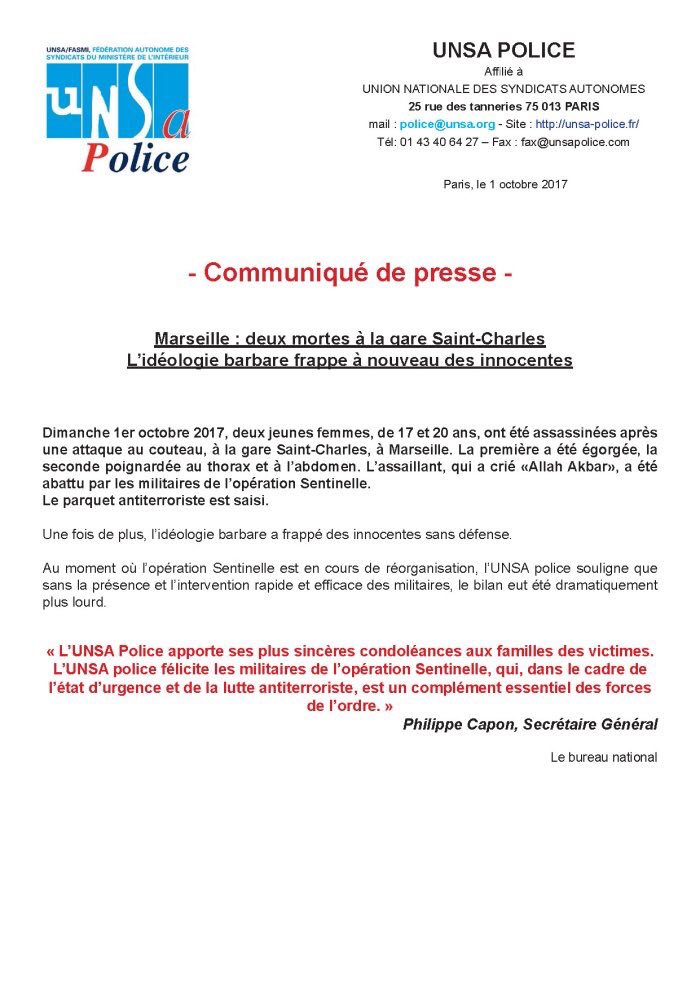 ** A police source tells FranceInfo, the attacker was known under 7 identities in France and several Maghreb countries.
** Phone number (within France) for psychological assistance for family of the victims, provided by SNCF: 0800 120 821
** IS has claimed the attack

** #IS says the attack was carried out by an IS soldier in response to calls to attack countries of the coalition.
** Le Parisien reports the attacker is an illegal Algerian migrant between 25 and 30 years old, known for petty crime.
** Each time he was caught, he gave a different identity. He wasn't known to French intelligence services acc to France2.
** La Provence on the other hand reports the man is a Tunisian illegal, but with the same description.
** – Police union says 17 and 20 years old – La Provence says 20 and 21-year-old cousins
** This is our playlist on today's attack, including BFM footage and a @dennis_wecker interview
---
---
#Canada #Edmonton – Officer who was at traffic checkpoint for Edmonton Eskimos football game stabbed
** The suspect fled on foot after ramming a barricade, sending an EPS officer flying about 15 feet
** The initial officer was stabbed several times. Male attacker tried to flee in a UHaul, but was pulled over by police
** During his attempt to escape, 4 pedestrians were injured. An #IS-flag was found in the 1st car. CT-investigation opened
** Police were chasing the attacker due to the severity of the initial stabbing attack on the officer.
** The officer is not in a critical condition. Status of pedestrians unknown at this point. (Police pressco, R Knecht)
** Both the initial stabbing and the car ramming are being investigated as acts of terror
** New police press conference @ 3 pm local
** Police press release –  https://t.co/jRxGIDOkUj
** The suspect has been identified as Abdulahi Hasan Sharif. (CBC)
** According to the Public Safety Minister, the attacker was known to law enforcement & he was on a "police watch list"
** Edmonton attacker is a Somali national who is in Canada and has claimed refugee status.
** The attacker faces 5 counts of attempted murder and terrorist-related offenses.
** The suspect was on the radar since 2015 when a complaint suggesting he may have been radicalized was filed.
** He was questioned, but there was insufficient evidence.
** Police update: Somali suspect is a confirmed refugee, not a claimant.
---